We continue our blogger spotlight series, part of our Blogger Beach Bash giveaway.  Please be sure to visit Chana at the Adventures in Fluff for a chance to win a $15 gift certificate to Kelly's Closet.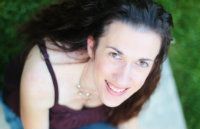 Name: Chana Putnam
Blog Name:  Adventures in Fluff
How long have you been blogging?  I've been blogging for a little over a year when I decided that I wanted to cloth diaper my son.  I started the blog to document my "Adventures In Fluff".
How long have you been using cloth diapers?  9mo. (since my son was 1 week old)
Favorite cloth diaper?  Ack!!!  Do I really have to choose a favorite???  I have wayyyyy too many.  Right now I'm really loving AIO's and AI2's.  I'm really loving GroVia AI2's, SoftBums Echos, and Thirsties Duo AIO's when it comes to mainstream diaper lines.  My favorite WAHM diapers are Ragababe and Chelory.
Funniest cloth diaper experience?  Maybe not sooooo funny, but I had my husband change Lincoln into his nighttime diaper for the first time.  In the morning I picked up Lincoln and noticed he was pooping so I decided to wait till he finished to change him.  Very quickly I realized that he started feeling squishy gooey.  Hmmmm… That's weird.  I peeked inside his jammies to find that his diaper was around his ankles and poop going everywhere.  Ack!!!  Guess my hubby didn't get that diaper on quite right.  Ooops!
About Chana:  My name is Chana and I'm a cloth diaper addict.  Haha! Not that bad, but pretty close.  On my blog, Adventures In Fluff, you'll find The Good, The Bad, and The Poopy of cloth diapering, not to mention lots of other stuff about raising my two crazy girls and my fluffy butt boy.  I started my blog in the spring of 2011 while pregnant with my son.  At first I just wanted to document my crazy cloth diapering adventure, but it slowly blossomed into a strong passion (some would call obsession) that I wanted to share with others.  Check out my blog for tons of reviews, tips, DIY projects, & just plain fluffy fun.
Thank you Chana for sharing your story with us for sharing your tips on how to travel like a pro with cloth diapers.